What is it? What is USB?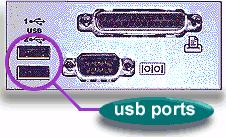 Unveiled in 1995, the
Universal Serial Bus
connectivity standard allows
up to 127 devices may be connected to the Host PC without using multiple connector types, without interrupt conflicts (IRQs), without hardware address adjustments (jumpers) or channel changes (DMA)
. The USB interface is standard on virtually all of the new PC's from Apple, Compaq, Dell, Gateway, Hewlett Packard, IBM and most others. USB will be replacing many common PC connectors such as Centronics parallel, RS-232 serial, Mini-DIN and Sub-D (game ports, printer ports, keyboard and mouse connectors, modem and most network adapters, etc.) ... eventually replacing most external connections except main power (plug-in-the-wall), specialty high speed video and very high speed networks.
One industry standard connection set for virtually all peripherals and accessories.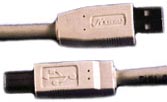 Series A Plug and Series B Plug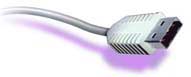 The
series A connector
, intended for upstream connections (towards the Host PC) is available in standard, upright and vertical designs save board space. Four wires with shield; two data lines and 5 volts DC with ground and shield.
The
series B connector
, for downstream connections towards USB peripherals such as USB hubs, telephones and modems, monitors, printers and scanners and many other peripherals. Its the same four wires with shield; two data lines and 5 volts DC with ground and shield.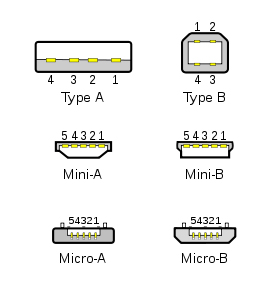 Broad Industry Support:
The standards have been established by the computer and telecommunications leaders including Altec-Lansing,
Cherry Electric
, Cypress Semiconductor, IBM,
Intel Corporation
,
Kodak Digital
,
Micrel Semiconductor
, Microsoft, NteChip,
Newnex
, Northern Telecom,
Philips Semiconductor
, Siemens, Texas Instruments and USAR Systems, through the
USB Standards Organization
. Joining in support and development,
Apple
,
Compaq
, Dell, Fujitsu,
Gateway
, Hewlett Packard,
NEC
, Sony, Toshiba, Transmonde and many others.
It is expected that by the end of this year, most PC, WorkStation and PowerPC parts and products manufacturers will join the effort and offer USB compatible products. .... and USBStuff.
Flexibility:
All kinds of devices can be hooked to the USB equipped PC through the same connector type, simultaneously ... cameras, modems, printers, scanners, mice, joysticks, keyboards, sound cards and sound systems, telephony devices, network connections, robotic devices, wireless interconnectivity and more, either by daisy chaining and/or through a tiered / star, multi-drop topology utilizing hubs. These devices have their own unique firmware "address" on any USB system. Operating system software will be able to identify each device through the USB protocol as each device comes on line or goes off line.
Specifications Overview USB 1.1:
Dual data transfer rates; - 1.5 Mbps and 12 Mbps; supports up to 127 devices; both isochronous and asynchronous data transfers; up to 5 meters per cable segment length; built in power distribution for low power devices. Daisy chain or stacked tier device topology.
USB 2.0:
USB 3.0:
USB 3.0 offers transmission speeds of up to 5 Gbps/sec, which is over 10 times faster than USB2.0 (480 Mbps/sec). USB 3.0 significantly reduces the time required for data transmission, reduces power consumption, and is backwards compatible with USB 2.0. With active participation in USB 3.0 development.
---
Portions of the above definitions and images are copyright 1998 by the
Newnex Corporation
. Note : all trademarks, service marks and copyrights in this catalog are attributed herein to the various owners of such throughout this catalog and are hereby used with implied and expressed permission in the best interest of all concerned. It is not the intention of USBStuff or its employees and/or contractors to degrade or disparage any trademark, service mark or copyright.